St. Mary's Catholic School




Sister Alma
1st. Principal of St. Mary's School

1956-2009

During his time in Port Hope as pastor of Our Lady of Mercy, Fr. Cleary initiated a program of Catholic education. The first step was the building of a school of four rooms in 1956 to accommodate one hundred and forty pupils. The Sisters of St. Joseph were invited to take charge of the operation of the school and Sister Alma (Geraldine Harrington) was appointed first Principal of St. Mary's Elementary School. During the first year of the school's operation two class-rooms were added and in 1957 a seventh class-room was opened. In 1960 St. Mary's School in Port Hope had to be enlarged, this addition included two class-rooms and a combined auditorium and gymnasium. Fr. Cleary himself has been known for driving the kids to and from school himself for a time. Fr. Cleary's vision for Catholic Education in Port Hope eventually blossomed into a beautiful, modern school - St. Anthony on Toronto Road. St. Mary School became so full of eager students that it eventually was designated as a Primary School, while St. Anthony's housed the Junior and Intermediate students. Eventually it became apparent that St. Mary's 150 students and twelve staff had outgrown the original building, and on December 3rd, 2009 the St. Anthony students and staff walked down the hill to St. Mary School and the two communities paraded - along with parish and community members - to the newly renovated St. Anthony School where the two schools became one. It was a bittersweet day, as St. Mary School had seen hundreds of families come through their doors, but every child brought with them a small offering from the "old" school to the "new" one, and were welcomed warmly into their new building. St. Mary School was closed with the dignity and the love it deserved, and a new chapter in Catholic Education in Port Hope began. With over 50 years of quality Catholic education the school is now closed but the memories will live on.
---
"Coming Together" St. Mary's and St. Anthony's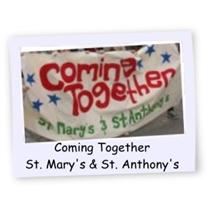 "Coming Together" St. Mary's and St, Anthony's on the last day students will roam the halls of St. Mary's and on their way to St. Anthony's accompanied by student's of St. Anthony's in a grand parade. Dec 3, 2009.
---
In service to one....
In service to all.
© Copyright 2010-2013 Knights of Columbus
Port Hope Council #6490