4th Degree Exemplification 2010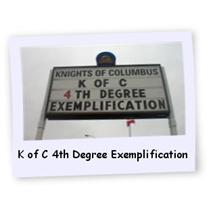 The Exemplification of 2010 was held in Trenton on April 25, 2010. Two men from Port Hope Council 6490, Eight men altogether from Sir Knight James J. Tracey Assembly became Sir. Knights. The second Exemplification was held in Peterborough Nov. 21, 2010 with three new candidates receiving the honors of the 4th Degree.
---
In service to one....
In service to all.
© Copyright 2010-2011 Knights of Columbus
Port Hope Council #6490